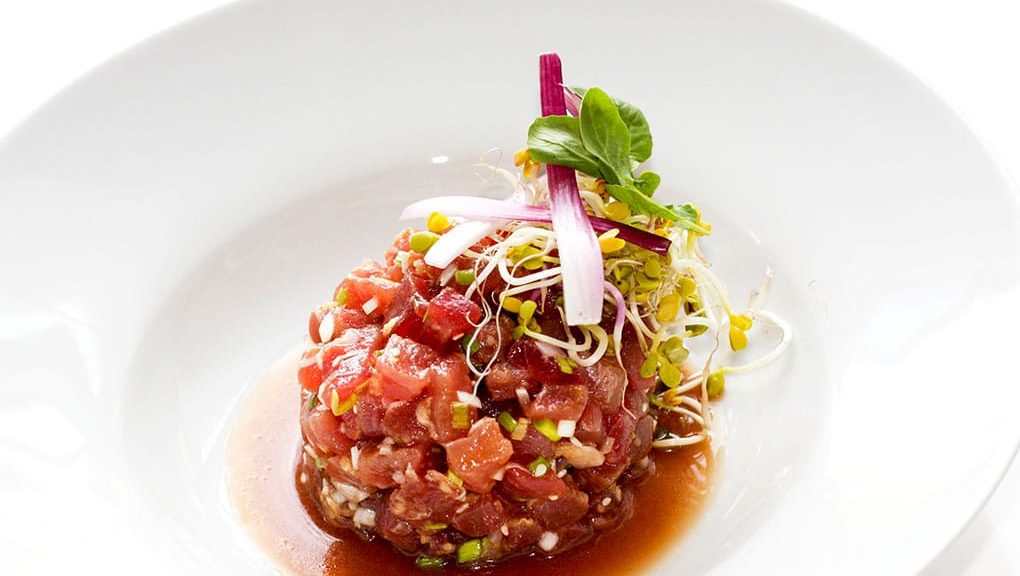 Red tuna tartare
Arbequina is a variety of olive oil whose main characteristic is sweet and the absence of bitterness. The Arbequina Claramunt is wrapped in that sweet by a delicate and elegant spicy.
With this sweet flavor and spicy attribute the arbequina becomes an indispensable companion for our red tuna tartar arbequina Claramunt.
Ingredients
300 grams of fresh bluefin tuna.
2 avocados. Not too ripe or green.
1/2 spring onion.
1 lime
2 tablespoons of soy sauce.
1 teaspoon of mustard
3 drops of Claramunt vinegar reduction
1 teaspoon of sesame oil
1 small teaspoon wasabi. As we like the spicy.
1/2 teaspoon of ginger.
Sesame seeds to decorate.
2 tablespoons extra virgin olive oil Claramunt Extra Virgin arbequina variety and salt point.
Wafers
Instructions
Chop the spring onion very fine, reserve.

In a bowl we will mix the Arbequina Extra Virgin Olive Oil, soy sauce, sesame oil, wasabi to taste, ginger, juice of medium lime and rectify the salt, taking into account the soy, finally adding the spring onion. We left this pairing in the fridge for two hours.

Now we cut the bluefin tuna, in small regular squares, according to the recipe photo.

Add the tuna to the marinade bowl, and stir well with the marinade, which is completely impregnated. Let it rest for at least half an hour,

Finally cut the avocado into small squares and beat it with a few drops of lime and a teaspoon of extra virgin olive oil arbequina variety. Add a few drops of lemon so it doesn't darken by oxidation and a pinch of salt.

We put the wafers in the oven until they are golden brown. We take out wait for them to cool and pulverize to make a land of wafers.
Our products
For plating we can use our imagination and surprise ourselves. For this we will use a small round mould with the size of the lime to make our tartar.
We spread out a little bit of wafer soil that we have reserved and put our mould and introduce half of the lime, to which we have previously cut a piece of the base so that it can be maintained, we reserve. On top carefully and inside the mould we put the tuna, a high layer of the same thickness as the lime. We put a bud to finish the tartar and some sesame seeds.
In a small bowl we will serve the avocado cream and put a few drops on the plate, buds and flowers to decorate.